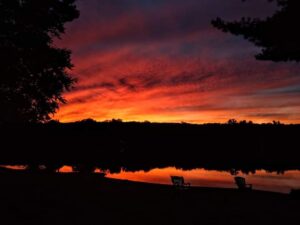 There are only 2 weeks left until the start of Summer and our office is excited to be able to get back outside and enjoy the sunshine!
Kelly, one of our amazing front desk girls, plays softball. She is a terrific catcher, although it is getting hard on the knees! Other staff in our office enjoy swimming, biking, hiking, kayaking, and of course playing softball.
Many of us enjoy spending time in parks just enjoying nature. While there are a few different parks near us we all have our favorites. Shultz Park in Simsbury is a lovely arboretum filled with beautiful trees. Our families love visiting the dog parks in town. Lake Garda offers beautiful sunsets. Susan takes the best pictures there!
Shari, our Marketing Director, is the props master for Simsbury Summer Theatre and has worked on several productions over the years. Many of the youth members are patients here and we are always so proud to see them and their hard work each August.
Other than enjoying local areas during the summer, a lot of us travel during this time as well. Some of the areas that are planned include Lancaster, PA, Disney,  Maine, and so many more.
We also love to enjoy fresh produce during this time of year. We love fresh tomatoes, peppers, cucumbers, carrots, lettuce, spinach, and more. Some of us grow our own at home and some frequent the local farmers' markets each weekend. And of course, watermelon is a summer fan favorite!
Many of our diets include salads of all kinds. With fresh fruit we make salads and with fresh vegetables we make salads too. If you are looking for a yummy and filling salad idea, we highly recommend this one:
Greens (your favorite)
Strawberries
Blueberries
Goat Cheese
Candied Pecans
Grilled Chicken (optional)
Poppyseed Dressing
Other than enjoying our sun and warm weather, we will also be celebrating with all of our dads later this month as we wish them a very happy Father's Day! We love seeing them in the office. Hope your special day is filled with fun and family.